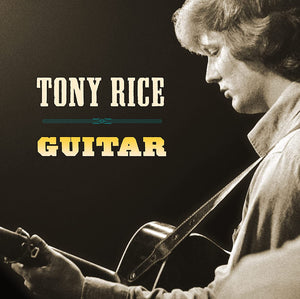 2022 REISSUE. BLACK VINYL LP.
"Guitar" was Tony Rice's first venture into recording and it still holds up as one of the great bluegrass guitar records ever issued. The album came to Rebel in a roundabout way. It was recorded in Lexington, Kentucky, first appeared on a record label in Japan, made it's way back to Kentucky for release on a regional label that was later acquired by Rebel in the late 1970s. As Tony was working in banjo-great J.D. Crowe's band at the time, it was quite natural for Crowe., Tony's brother and mandolinist Larry Rice, and bassist Bobby Slone to provide the instrumental backing. Recorded at a time when progressive sounds and styles were treading on the traditional framework of bluegrass, "Guitar" was praised for walking the fine line of spotlighting Tony's prowess on the instrument while remaining very much a "band" recording.
With Tony in fine form vocally and his amazing guitar work on full display, this is where you will find his signature versions of "Freeborn Man," "Doing My Time," "Nine Pound Hammer," and "John Hardy" - plus the closing track, a nine-minute tour-de-force rendition of "Lonesome Reuben."