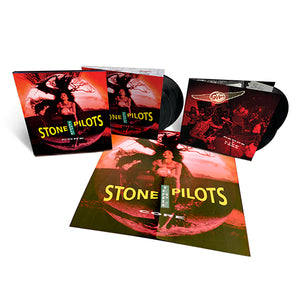 4xLP BLACK VINYL BOX SET w/ BONUS DEMOS AND LIVE TRACKS ON LP3 & LP4 + POSTER.

"Stone Temple Pilots immediately established themselves as rock and roll heavyweights with the release of their debut album Core in 1992. 30 years later, the album is a certified classic that continues to dominate the rock radio airwaves with timeless rock anthems including "Sex Type Thing," "Creep," and "Wicked Garden." Core peaked at No. 3 on the Billboard album chart and has been certified 8x Platinum by the RIAA. The band also took home the Grammy Award for Best Hard Rock Performance for their smash single "Plush."
To commemorate 30 years of Core, Run Out Groove delivers an exclusive 180g vinyl 4LP deluxe edition of the iconic album featuring the original album as a 2LP set, plus two additional LPs featuring 18 demos and live performances, which are all making their vinyl debut. The deluxe edition comes in a hardbound slipcase featuring an exclusive poster of the album art and a booklet featuring liner notes and rare photos of the band from the era.
All of the music on the third and fourth LPs in the set is making its debut on vinyl. Of the nine demos included, four were recorded between 1987 and 1990, when the band was known as Mighty Joe Young. One of those, "Only Dying," is a song the band had planned to re-record in 1994 for The Crow soundtrack. The idea was later scrapped after the star of the film, Brandon Lee, was killed during production. The third LP concludes with five unreleased demos from their original Atlantic sessions. The fourth and final LP contains a scorching live recording from Castaic Lake Natural Amphitheater near Los Angeles from July 2, 1993, which features performances of nearly every track from Core."