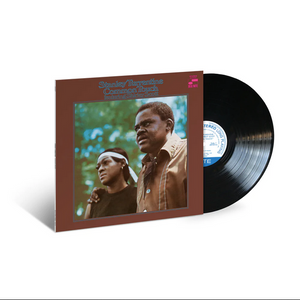 2022 REMASTER. BLUE NOTE CLASSIC VINYL SERIES.
*HEADS UP - THESE ARRIVED IN OUR SHOP WITH A MINOR DING TO ONE CORNER OF EACH JACKET AND/OR A TINY SPLIT ACROSS THE TOP SEAM OF THE JACKETS. THEY'RE MARKED DOWN $2.*
"Tenor saxophonist Stanley Turrentine imbued every note he played with feeling and soul. His lesser-known 1968 classic, Common Touch, featured organist Shirley Scott, guitarist Jimmy Ponder, bassist Bob Cranshaw, and drummer Leo Morris (aka Idris Muhammad). Highlights include the groovy "Buster Brown" and the slow burn of "Lonely Avenue." Blue Note Classic Vinyl Series is all-analog, mastered by Kevin Gray from the original master tapes."