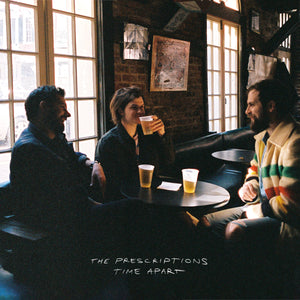 BLACK VINYL LP via SINGLE LOCK.

"A timeless rock & roll band for the modern world, The Prescriptions sharpen their sound with Time Apart. Produced by Ben Tanner (Alabama Shakes) and Brendan Benson (The Raconteurs), the album funnels a half-century of American and British influences — including taut power pop, explorative indie rock, jangling heartland hooks, and New Wave nuances — into something sharp and singular.
The result is a warm, widescreen follow-up to The Prescriptions' 2019 debut, Hollywood Gold, its songs balanced halfway between classic craftsmanship and progressive exploration. Fiery and forward-looking, Time Apart explores both sides of the pop/rock divide. It's a 21st century album rooted in everything that made the classic stuff so compelling — sharp songwriting, ringing refrains, percussive stomp, and guitars that chime one minute and churn the next. Time Apart is an album for the heart, head, and hips. The Prescriptions have been never been shy about nodding to the hook-driven rockers who came before them, but here, they carry those influences into uncharted territory, uncovering something that's truly theirs along the way. It was time together that created Time Apart, and The Prescriptions have never defined their ambition or abilities so clearly before."