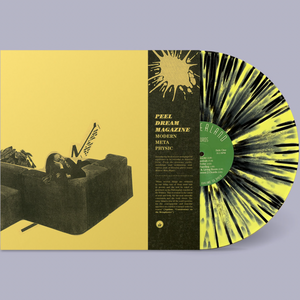 INDIE EXCLUSIVE YELLOW AND BLACK SPLATTER VINYL LP.
"Modern Meta Physic is the debut album of Peel Dream Magazine, the nom de plume of New York City-based musician Joe Stevens. Stevens, a talented multi-instrumentalist, wrote, played, recorded, and mixed the album in his apartment in Brooklyn — quite surprising, considering how much Modern Meta Physic sounds like it was played by a tour-seasoned band.
After some time spent out-of-print thanks to ongoing vinyl production delays, we're very happy to bring you this fresh new pressing of Modern Meta Physic, this time on beautiful yellow & black splatter vinyl. With the recent release of Pad it's a perfect time to reassess this terrific record and restock the Peel Dream catalog."