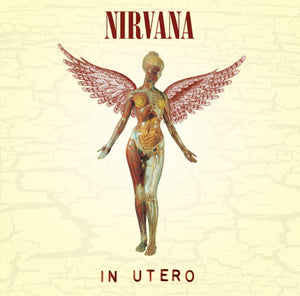 GERMAN IMPORT. 180g BLACK VINYL LP.
*HEADS UP - A COPY OF THIS TITLE IN OUR LATEST SHIPMENT ARRIVED IN OUR SHOP WITH A MINOR DING TO ONE CORNER OF THE OUTER JACKET. THAT COPY IS MARKED DOWN $1.*
"In Utero is a howling, defiantly punkish recording, an unsentimental throwback to an era of garage band epiphanies and raw, unadorned rock and roll. Nirvana rails against both alternative conformity and polished notions of commercial rock with the anthemic rage of true outcasts. Engineer-producer Steve Albini has enabled Nirvana to replicate the savage immediacy of their live sound-the sound of a band without commercial aspirations or pretensions, just thrashing away for the sheer joy of noise."