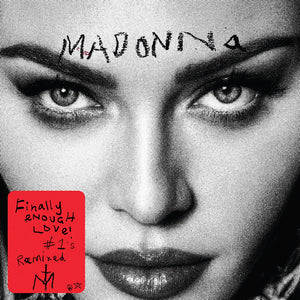 INDIE EXCLUSIVE VINYL LP... MAYBE ON COLOR VINYL? NOT SURE THOUGH.
*HEADS UP - ONE COPY OF THIS TITLE ARRIVED IN OUR STORE WITH A DINGED CORNER. IT'S MARKED DOWN A DOLLAR.*
"New Career-Spanning Compilations Celebrate The Icon's Record 50 #1 Club Hits Across Four Decades
Collections Include Madonna's Favorite Remixes, Rare And Unreleased Versions, All Newly Remastered
Madonna made history once again when she topped the Dance Club Songs chart for the 50th time, making her the first and only recording artist to have 50 #1 hits on any single Billboard chart.
To celebrate this historic milestone, Madonna curated two new collections: FINALLY ENOUGH LOVE: 50 NUMBER ONES, a new 50-track collection that includes her favorite remixes of those chart-topping dance hits that have filled clubs worldwide for four decades, and this abridged 16-track version, simply titled FINALLY ENOUGH LOVE."