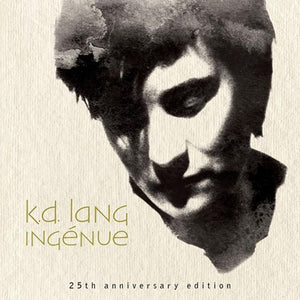 25th ANNIVERSARY EDITION. 2017 REISSUE. BLACK VINYL 2xLP w/ REMASTERED ORIGINAL ALBUM ON LP1 + BONUS MTV UNPLUGGED PERFORMANCE ON LP2.
"Nonesuch releases k.d. lang's Ingénue: 25th Anniversary Edition to celebrate the double platinum-selling, Grammy Award-winning album's silver anniversary. This new 2LP-set includes remastered versions of the album's original 10 tracks, including its huge hit "Constant Craving," along with eight previously unreleased performances from lang's 1993 MTV Unplugged, recorded in NYC's famed Ed Sullivan Theater. Ingénue was lang's fifth album, following a quartet of records that pushed the boundaries of country music. Released in 1992, the album was the first of entirely new material. lang wrote most of the songs with her longtime collaborator Ben Mink; Greg Penny co-wrote "So It Shall Be," and all three produced the album.
As James Reed writes in the 25th Anniversary Edition liner notes, "Ingénue is still such a mysterious body of work...You'd be hard-pressed to pinpoint when the album was released or even made and where. It slinks out of the speakers with luminous melodies in search of a soundtrack, its choruses as vast and sweeping as the Canadian prairies where lang grew up in Consort, Alberta. A strange brew of torch and twang, of pop gloss and jazz sophistication – and shot through with Eastern European flourishes...lang was fond of calling it 'post-nuclear cabaret' back then.
"Throughout Ingénue, a succinct song cycle and ode to an unrequited relationship, we witness an artist navigating love in its many splendors. It should have come with a warning sticker on its cover: 'Love is not always pretty. Proceed with caution – and a Kleenex.' lang was unflinching in presenting desire as both toxic and intoxicating, a human condition that subsumes all of us at some point."