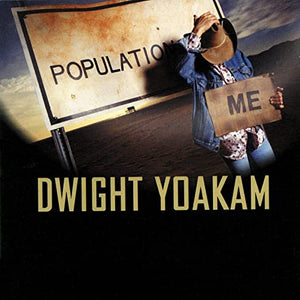 INDIE EXCLUSIVE OCEAN BLUE VINYL LP.
"Dwight Yoakam's Population: Me (2003) and Dwight's Used Records (2004) are being pressed on vinyl for the first time! Repackaged with updated artwork and remastered for vinyl, these two titles are being released on limited edition color vinyl for the first pressing release.

Although unquestionably a country record, Population Me offers a wider array of musical colors than the straight country sound Yoakam's has come to be known for. This record features seven original songs as well as three covers tracks. Bluegrass legend Earl Scruggs plays banjo on the reworked cover of Burt Bacharach's "Trains and Boats and Planes," and banjo is also prominently featured on the Los Angeles singer-songwriter Mike Stinson's "The Late Great Golden State," which features Timothy B. Schmit of the Eagles on background vocals."