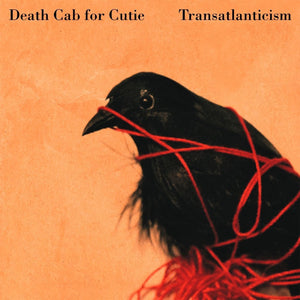 20th ANNIVERSARY EDITION. BLACK VINYL 2xLP w/ DOWNLOAD CODE FOR FULL ALBUM PLUS BONUS DEMOS.
"Barsuk is pleased to release Death Cab for Cutie's 'Transatlanticism' on standard weight vinyl. This classic album will be back in print in time for the double-bill Postal Service Give Up / Death Cab for Cutie 'Transatlanticism' tour, celebrating the 20th anniversary of these generation defining albums.

Includes a download code with the full album plus original album demos available as a digital exclusive.

CRITICAL ACCLAIM FOR TRANSATLANTICISM

"Their greatest accomplishment, fully realizing the potential of Death Cab's earnest accessibility while widening the scope and ambition... It's their masterpiece." – SPIN

"Their masterwork." – Rolling Stone (Best Albums of the 2000s)

"Transatlanticism holds up as an exquisitely produced, largely flawless record in which every song is bound to serve as someone's favorite." – NPR

"A classic indie-rock album." – Entertainment Weekly"