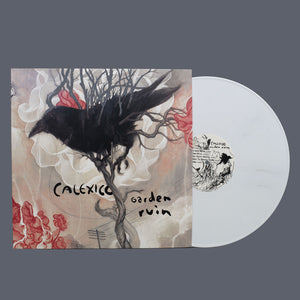 15th ANNIVERSARY EDITION. LTD SILVER & WHITE VINYL LP.
"Inspired by their surroundings, Calexico explored musical avenues that they had previously left untouched. "This album was a conscious decision to try something new and tap into strains in our musical fabric that haven't been highlighted in the past," commented Joey Burns.
This is no doubt one reason why Garden Ruin seems a more accessible album. Where the open blue skies of the landscapes they chronicled before were normally tempered by the smoky dark blues of their jazz influences, Garden Ruin is musically brighter, though the skies are tempered by a darker lyrical content in which "Birds refuse to fly / No longer trust the sky". Opener "Cruel" is a case in point, it's potent melody and almost uplifting arrangement masking stories "that break like branches in the cold". Closing track "All Systems Red" is massive, guitars surging round Burns as he howls in a way that was as surprising to those who followed the band throughout their career as to the late converts brought in by their cover of Love's "Alone Again Or."