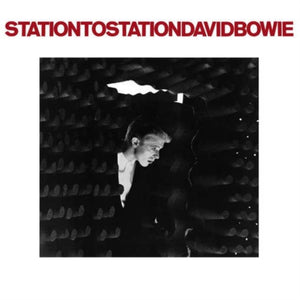 REMASTERED 180g BLACK VINYL LP.
*HEADS UP - A COPY OF THIS TITLE IN OUR LATEST SHIPMENT ARRIVED IN OUR SHOP WITH A CREASE BY ONE CORNER OF THE OUTER JACKET. THAT COPY IS MARKED DOWN $1.*
"Station to Station is the tenth studio album by rock legend David Bowie, released by RCA Records in 1976. Commonly regarded as one of his most significant works, Station To Station was the vehicle for his performance persona, the Thin White Duke. Musically, Station to Station was a transitional album for Bowie, developing the funk and soul music of his previous release, Young Americans, while presenting a new direction towards synthesizers and motorik rhythms that was influenced by German electronic bands such as Neu! And Kraftwerk. Blending funk and krautrock, romantic balladry and occultism, Station To Station has been described as "simultaneously one of Bowie's most accessible albums and his most impenetrable". Preceded by the single "Golden Years", it made the top five in both the UK and US charts."