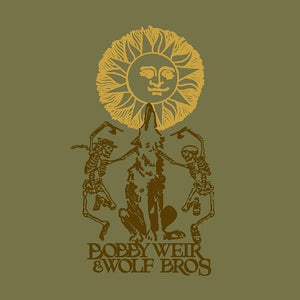 INDIE EXCLUSIVE RED & GREEN VINYL 2xLP
or
BLACK VINYL 2xLP.
"Bobby Weir & Wolf Bros—consisting of Bobby Weir, Don Was, Jay Lane and Jeff Chimenti—are set for the release of their second vinyl collection of recorded material, Bobby Weir & Wolf Bros: Live in Colorado Vol. 2, October 2022 on Third Man Records.
"This was our first quick tour with The Wolfpack," Weir says. "There's a rawness to it that we'll prolly never get again…"
The album follows Bobby Weir & Wolf Bros: Live in Colorado, which was released this past February to critical acclaim. Vol. 2 also features songs recorded live at Red Rocks Amphitheatre and the Gerald R. Ford Amphitheater in Colorado in June, 2021—a documentation of their first live audience concerts in over a year due to the pandemic—featuring Greg Leisz on pedal steel, along with The Wolfpack: Alex Kelly, Brian Switzer, Adam Theis, Mads Tolling and Sheldon Brown."