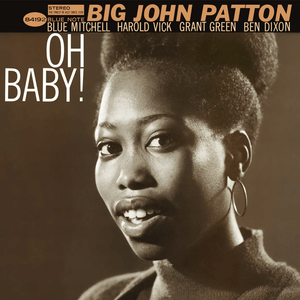 BLUE NOTE CLASSIC VINYL SERIES. 180g BLACK VINYL LP. MASTERED BY KEVIN GRAY FROM THE ORIGINAL ANALOG TAPES.
*HEADS UP - ONE COPY OF THIS TITLE ARRIVED IN OUR SHOP WITH A MINOR SPLIT ACROSS THE TOP SEAM OF THE JACKET. THAT COPY IS MARKED DOWN $2.*
"Blue Note's roster in the 1960s boasted numerous Hammond B3 organ whizzes including the soulful Kansas City-born master, Big John Patton. The dynamic quintet that he assembled for his 1965 album Oh Baby! Packed a punch with the B3 master joined by Blue Mitchell (trumpet), Harold Vick (tenor saxophone), Grant Green (guitar), and Ben Dixon (drums). Blue Note Classic Vinyl Series is all-analog, mastered by Kevin Gray from the original master tapes."