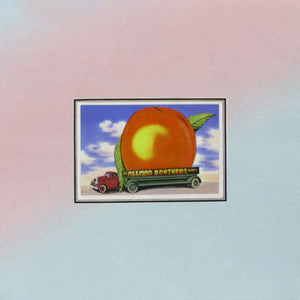 180g BLACK VINYL 2xLP.
*HEADS UP - A COPY OF THIS TITLE IN OUR LATEST SHIPMENT ARRIVED IN OUR SHOP WITH A MINOR CORNER DING NEAR ONE CORNER OF THE OUTER JACKET. THAT COPY IS MARKED DOWN $1.*
"It has been remastered from original analog tapes by Keven Reeves to 192kHz 24-bit audio and then cut on copper plates using Abbey Road Mastering's Direct Metal Mastering (DMM) lathe. The original artwork has been faithfully reproduced. Eat A Peach is the third studio album from the Allman Brothers. Produced by Tom Dowd, the album was released on February 12, 1972. Following their artistic and commercial breakthrough with the release of the live album At Fillmore East (1971), The Allman Brothers Band got to work on their third studio album. Many in the band were struggling, however, with heroin addictions, and checked into rehab to confront these problems. Shortly after leaving rehab, group leader and founder Duane Allman was killed in a motorcycle accident in the band's home of Macon, Georgia thus making it the final album to feature the guitarist. Eat a Peach was a mix of studio recordings-both with and without Duane Allman-and recordings from the band's famed 1971 Fillmore East performances. Eat a Peach was an immediate success and peaked at #4 on Billboard's Top 200 Pop Albums chart. The album was later certified platinum and remains a top seller in the band's discography.