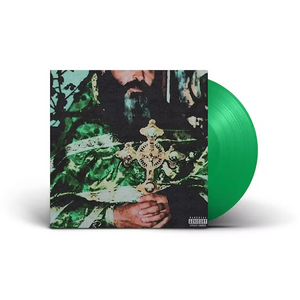 LIMITED GREEN VINYL LP.
*HEADS UP - A COUPLE OF COPIES OF THIS TITLE ARRIVED IN OUR SHOP WITH SOME MINOR ROUNDING ON A CORNER OR TWO OF THE OUTER JACKETS. THOSE COPIES ARE NEAR-MINT AND THEY'RE MARKED DOWN $2.*
"We choose life or death. No third option exists. Suicideboys rap like their lives depend on it, because they actually do. Hip-hop lifted the New Orleans duo of cousins-Scott Arcenaux, Jr. a.k.a. $lick Sloth and Aristos Petrou a.k.a. Ruby da Cherry-out of a violent drug-riddled hood nightmare and into an underground phenomenon. On the way up, they landed a Top 10 debut on the Billboard Top 200, tallied 2 billion-plus streams, averaged 4.2 million monthly listeners on Spotify, sold out arenas on three continents, and received acclaim from Pigeons and Planes, XXL, Billboard, and Revolver. Not to mention, they collaborated with everyone from Academy® Award winner Juicy J to members of Korn. These accolades cemented the pair as the culture's most insurgent, inescapable, and influential cult by 2020."