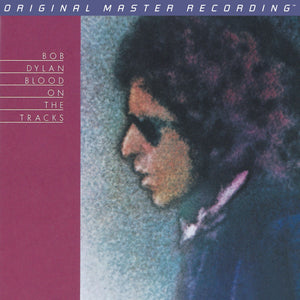 MOBILE FIDELITY SOUND LAB 180g AUDIOPHILE 33 1/3 RPM BLACK VINYL LP. LTD EDITION, NUMBERED.
"Bob Dylan was at several crossroads in the mid-1970s. Artistically, he was largely written off as being past his prime. Emotionally, he was suffering through a painful divorce from his then-wife Sara Lowndes. Creatively, he appeared at a stalemate, his previous decade's unprecedented run of transformational brilliance finished. Then came Blood on the Tracks.
A start-to-finish cycle that documents a lover's pursuit of, entanglement with, and loss of a woman, the bracingly intimate 1975 effort remains one of the most encompassing break-up albums ever made and ranks as the most personal statement of the Bard's career. To hear it is to experience the agony, frustration, trauma, highs, lows, confusion, sadness, and, ultimately, requisite redemption associated with intimate relationships gone astray. Dylan maintains it's a work of fiction, but it's evident close-vested autobiographical premise is what helps make it universal: It's the icon singing through tears, going out of his mind, battling hallowing emptiness, firing shots across the bow, and accepting culpability. It is, in short, a consummate expression of love's darker sides and the consequences of what happens when dreams unravel.
Mobile Fidelity is proud to have sourced the iconic LP from the original master tapes and pressed it on dead-quiet LP at RTI. The end result is a reference-grade reissue of Blood on the Tracks. Presenting the solo acoustic and band-supported songs with remarkable clarity, dynamics, presence, immediacy, spaciousness, imaging, and balance, this reissue shines a high-powered light on the fluid vocal phrasing, timbral shifts, functional rhythms, and inward-looking strumming that flesh out every song."