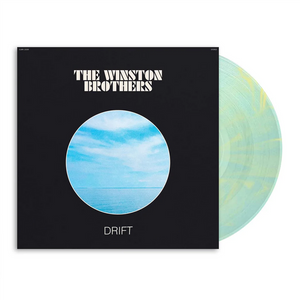 INDIE EXCLUSIVE COKE BOTTLE CLEAR w/ YELLOW SWIRL VINYL LP via COLEMINE.
"Hot on the heels of their debut 45 released on Colemine Records, German funk powerhouse The Winston Brothers re-up with their first-ever full length LP. "DRIFT" is the name of the game, presenting eleven versatile cuts to invite listeners on an all-instrumental trip back to the future of funk. But make no mistake: Though audibly steeped in the deep funk tradition, this retrophile outfit is anything but dusty.
The Winston Brothers are a modular studio project by Hamburg-based multi-instrumentalist and producer Sebastian Nagel (The Mighty Mocambos, Bacao Rhythm & Steel Band) and drummer / percussionist extraordinaire Lucas Kochbeck (The KBCS, Bacao Rhythm & Steel Band, Hamburg Spinners). Industry veterans with a penchant for analog music production, the two combine a boom bap state of mind with well-rounded funk acumen and able frequent collaborators to create dynamic arrangements that are both an audible nod to the genre's past as well as a contemporary blend of like-minded organic styles.Lacing heavy drums with juicy breaks, headnodic grooves, scorching riffs and melodic instrumentation, "DRIFT" draws on the raw energy inherent to '60s / '70s funk and takes it from there. Catchy, repetitive motifs gain musical momentum as they evolve into vibrant and autonomous soundscapes with a distinct drive of their own, ranging from incendiary to more laid-back and almost dreamlike. Strutting an irresistible bounce to their step, The Winston Brothers are poised to light up dance floors, river cruises and backyard BBQs alike. Catch our drift?"