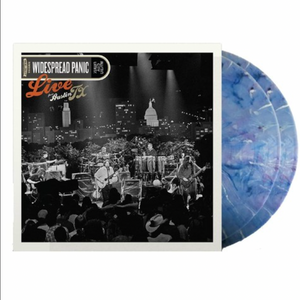 CHILLY WATER BLUE VINYL 2xLP.
" If you're among the legions of Widespread Panic fans, you already know that the band is legendary for never playing the same show twice – or the same song the same way twice. What makes this performance that much more special is the inspiring presence of founding member Michael Houser (whose nickname "Panic" inspired the band's name), who died of pancreatic cancer less than two years later. As much as anything, this is a celebration of Houser's life and the sheer joy he brought to a band that became one of the biggest draws on the international concert circuit and created a vibe that makes the Panic experience unique in the pop rock world.

But anybody who knows anything about them knows that Widespread Panic is so much more than just a jam-happy rock band. From the time Houser and John Bell ("JB") began playing duets around Athens, Georgia, in the early 80's, their repertoire ranged from early covers of the Grateful Dead and Bob Marley to a host of original songs (among them "Space Wrangler", included here) that demonstrate, as The Village Voice wrote, "a willingness to dip their collective toe into just about any genre." This is classic Widespread Panic, including David Schools on bass, John Hermann on keys, Todd Nance on drums and Domingo Ortiz on percussion.

One look at this show and it'll quickly become obvious there was something strange going on in the house that night. Yes, it was Halloween, 2000, and the rabid fans went beyond even their usual hard-core delirium. This was one time the audience almost threatened to steal the show!

-Terry Lickona (Producer Austin City Limits®)"