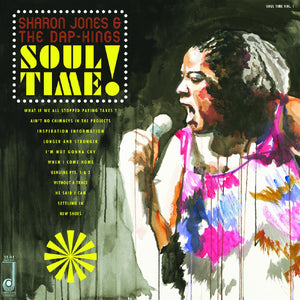 2022 REISSUE. INDIE EXCLUSIVE HOT PINK VINYL LP.

*HEADS UP - OUR ENTIRE SHIPMENT OF THIS TITLE ARRIVED IN OUR SHOP WITH MINOR DINGS TO ONE CORNER OF EACH JACKET. NOTHING TRAGIC - THEY'RE  NEAR-MINT AND THEY'RE MARKED DOWN $1.*

"Over the course of their career Sharon Jones & the Dap-Kings developed an international reputation as the no. 1 group on the soul scene. Soul Time! is an exploration of the full range of their dynamic sound through twelve songs hand picked by the Daptone Records gang, each one a precious exclusive. The needle drops on "Genuine Pts. 1 & 2", a super-charged funk arrangement that evokes the late Godfather not only with the spirited syncopation of the Dap-Kings rhythms, but also with the raw power of Jones' voice. It is performances such as these that earned her the moniker "the Female James Brown." Though it has long been one of their best-selling singles, it makes it's album debut here. "Longer and Stronger", written for her 50th birthday, is a deep mid-tempo soul celebration of the strength and determination with which Sharon Jones earned her long overdue success. The theme of empowerment pushes on through "He Said I Can", an energetic stomper belted over an arrangement reminiscent of the Isley Brothers early-seventies hey day, and "I'm Not Gonna Cry" brings us back to the raw funk intensity of Genuine with a squealing tenor solo and a fiery vocal. Side one wraps with a scorching studio performance of "When I Come Home", long a highlight of the band's live show but rearing its head on album here for the first time as well..."