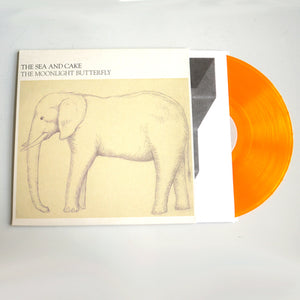 LTD. OPAQUE TAN VINYL LP.
"The Sea and Cake are a band who need very little introduction. In their extensive 25 year career the band has bridged the gap between Brazilian music of the late 1960', African influenced guitar lines, and independent pop. A sound that is entirely distinct, centered around the delicate guitar interplay of Sam Prekop and Archer Prewitt, driven by the versatile rhythms of bassist Eric Claridge and drummer John McEntire, and finally set apart by Prekop's vocals and obtuse lyrics.

The Moonlight Butterfly has the core elements of the utterly unique Sea and Cake sound, while introducing a more experimental approach to the song's textures and structures. The songs are more extended in form and cinematic in feel. The band's singular guitar-based pop sound is filtered though pattern based ideas that slowly morph the linear into the modal. The album is filled with extended instrumental passages that bear the markers of Prekop's recent solo explorations of analog synthesizers. The song 'Inn Keeping', for example, focuses on the synthesizer as the main armature of the song, a constant to play with and against."