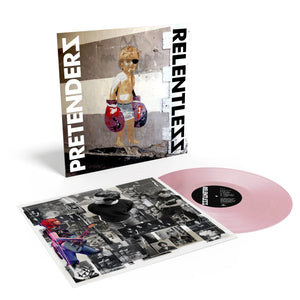 PINK VINYL LP.
"The Pretenders return with RELENTLESS, their fourteenth studio album. Arriving with the impulsiveness and attitude that at once defines the band's eternal spirit, RELENTLESS is a clearly defined snapshot of where The Pretenders are in 2023.
RELENTLESS is the second consecutive Pretenders album to be written as a collaboration between Chrissie Hynde and the band's resident guitar hero, James Walbourne. Especially sought after in his own right, having recorded with Dave Gahan, Jerry Lee Lewis, and The Rails amongst many more.
Produced by David Wrench and recorded at Battery Studios in West London, the album's 12 tracks feature what Chrissie describes as "The Pretenders Collective." This extended band features James Walbourne (guitars), Kris Sonne (drums), Chris Hill (double bass), Dave Page (bass) and Carwyn Ellis (keyboards and guitars).
RELENTLESS also features a long hoped-for collaboration with the esteemed composer Jonny Greenwood (Radiohead, The Smile), who provides the string arrangement and conducted the 12 Ensemble for the album's beautiful closing track, "I Think About You Daily.""