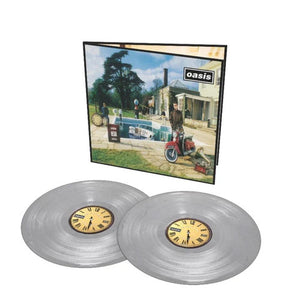 LTD. SILVER VINYL 2xLP.
*HEADS UP - A COPY OF THIS TITLE ARRIVED IN OUR STORE WITH A DINGED CORNER ON THE OUTSIDE JACKET. IT'S MARKED DOWN A DOLLAR.*
"'Be Here Now' is the third release in the Oasis 'Chasing The Sun: 1993-1997' series, out October 14th 2016 on Big Brother Recordings. One of the most anticipated album releases of all time, 'Be Here Now' was recorded with producer Owen Morris at Abbey Road Studios, Ridge Farm Studios, and Air Studios between October 1996 and May 1997. Originally released on Thursday 21st August 1997, it has sold over 8 million copies worldwide. This legendary album has been re-mastered from the original tapes."