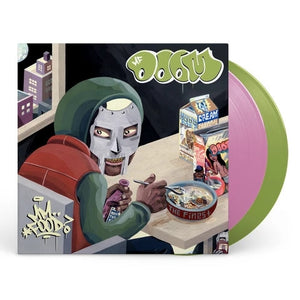 CUSTOM GREEN + PINK VINYL 2xLP w/ DOWNLOAD CARD.

*HEADS UP - WE'VE HELD SOME COPIES OF THIS TITLE BACK FOR IN-STORE ONLY PURCHASE. IF IT SAYS "SOLD OUT" HERE, MIGHT BE WORTH CHECKING IN WITH US BY PHONE OR COMING BY THE SHOP TO SEE IF WE STILL HAVE COPIES, OK?*
"After re-launching his career in the late nineties with a string of singles on Fondle Em Records, leading up to the instant-classic Operation: Doomsday album, MF DOOM relentlessly pushed forward, always innovating along the way, building what has become one of the most storied and revered careers in the world of Hip Hop.One apex point along that journey took place circa 2003/2004 with DOOM releasing Viktor Vaughn Parts 1 & 2, Madvillainy with Madlib (a legend in his own right), King Geedorah's Take Me To Your Leader, and MM..Food all in that short and explosive timeframe. While all of those projects have been revered by fans and critics alike, MM..Food is the only album that officially exists as the proper follow-up to Operation: Doomsday.MM..Food finds DOOM digging deep into vocal soundbytes related, as well as fitting to his namesake and artistic vision, meticulously building a cohesive album narrative. Diligence in mind, his writing is as sharp, witty and often shocking as ever. Production-wise, DOOM utilizes a fine blend of familiar and obscure sample sources, complimentarily working together to both satisfy and intrigue.And, while MM..Food is mostly the work of a mad scientist in his secret lair, a sprinkling of super-villain team ups with Count Bass D, Madlib, PNS of The Molemen, Stahhr, and Mr. Fantastik, all add to the album's overall flavor.Even after all these years MM..Food remains a satisfying feast for both returning true believers, as well as herds of new fans who happily and eventually find their listening ears in the clutches of DOOM."