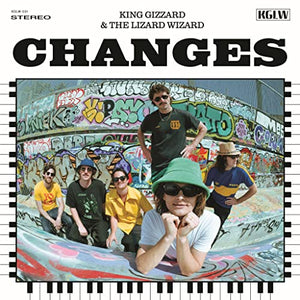 RECYCLED BLACK VINYL LP
or
"EXPLODING SUN" EDITION, 180g BLACK VINYL LP
or
"EDGE OF THE WATERFALL" EDITON, 180g BLACK VINYL LP.

*HEADS UP - THE DIFFERENT EDITIONS HAVE ALTERNATE COVER ART.
"Originally imagined as their fifth album of 2017, Changes has ended up the fifth album King Gizzard released in 2022. Good things come to those who wait, and Changes is worth every one of the 2,628,000 minutes King Gizzard invested in it. Soaked in warm sonics of '70s R&B guided by simple chord changes, and rounding out another remarkable year for the group, Changes is a soft pop marvel."