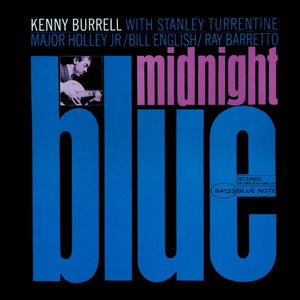 2014 BLUE NOTE 75 REISSUE. BLACK VINYL LP.
*HEADS UP - THIS COPY ARRIVED IN OUR SHOP WITH A MINOR DING TO ONE CORNER OF THE JACKET. IT'S MARKED DOWN $1.*
"2014 vinyl LP reissue of guitarist Kenny Burrell's 1963 album. Musicians include Stanley Turrentine on tenor sax, Major Holley Jr.. on bass, Bill English on drums and Ray Barretto on congas. One of his best known sessions for Blue Note, this release is part of the classic jazz label's 75th anniversary vinyl reissue series spearheaded by Blue Note Records President, Don Was."