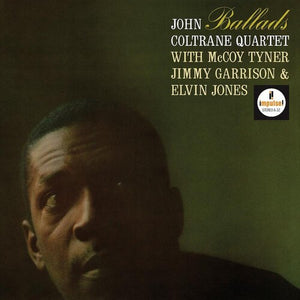 2020 AUDIOPHILE REISSUE via THE VERVE ACOUSTIC SOUNDS SERIES. 180g BLACK VINYL LP, MASTERED FROM THE ORIGINAL ANALOG TAPES AND MANUFACTURED AT QUALITY RECORD PRESSINGS.
"A special Coltrane masterpiece, recorded in December 1961 and released in 1963. When asked why such an undertaking, Coltrane replied, "variety." The recording captures the famed John Coltrane Quartet in a performance of timeless ballads.
Utilizing the skills of the top mastering engineers and the unsurpassed production craft of Quality Record Pressings, the Acoustic Sounds series is mastered from the original analog tapes, pressed on 180-gram vinyl and packaged by Stoughton Printing Co. in high-quality gatefold sleeves with tip-on jackets. The releases are supervised by Chad Kassem, CEO of Acoustic Sounds, the world's largest source for audiophile recordings.
The Acoustic Sounds series features two releases a month highlighting a different storied label spanning Verve/UMe's extraordinarily rich archive. To begin with, the series will largely focus on some of the most popular albums from the 1950s and 1960s in their unmatched catalogue.
"Verve and UMe have one of the richest jazz catalogues ever recorded and our goal is to give vinyl and jazz lovers the best possible versions of classic albums. The Acoustic Sounds series is designed to appeal to today's most discriminating fans, looking for the very finest in both artistic content and audio quality." - Bruce Resnikoff, President & CEO of UMe.
We're very honoured to have Verve and UMe partnering with us to create what we believe will be the highest quality reissues of some of the world's greatest jazz albums. Each step in our production process – from title selection to mastering, pressing and packaging – is designed to meet the highest standards, and we want everyone who hears these albums to feel the love and hard work we put into everything we do. We've long had a great relationship with UMe, pressing classic titles at our Quality Record Pressings from many of their highest-profile artists. We look forward to strengthening that partnership even further with these reissues from Verve, home of the world's largest jazz catalogue. - Chad Kassem, CEO of Acoustic Sounds."