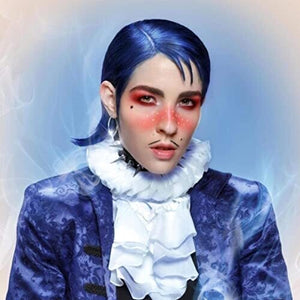 DLX EDITION. BLACK VINYL LP.
*HEADS UP - THESE COPIES ARRIVED IN OUR SHOP WITH SOME MINOR ROUNDING ON A CORNER OR TWO OF THE JACKETS. NOTHING TRAGIC, THEY'RE NEAR-MINT. DUE TO THE LIMITED NATURE OF THIS RELEASE, WE CANNOT OFFER ANY DISCOUNT ON THIS ONE AT THIS TIME.*
"Pop music agitator Dorian Electra (pronouns: they/them/theirs) makes music that is unbound by gender or genre. Since the 2019 release of their acclaimed debut album Flamboyant, which Interview Magazine called a "pop magnum opus," Electra has gained an intense cult following around the globe, that has been fueled by considerable critical support from places like Pitchfork, Billboard, Paper Magazine, FADER, Gay Times, The Guardian, and more. Electra, is known for their high-concept singles, which are each accompanied by a music video conceptualized, produced and co-directed by Electra and their co-director Weston Allen. They create a world in which camp is embraced and societal expectations and binaries are deconstructed."