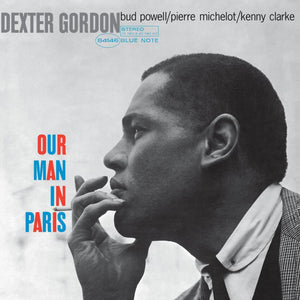 2014 BLUE NOTE 75 REISSUE. BLACK VINYL LP.
*HEADS UP - THIS COPY ARRIVED IN OUR SHOP WITH A MINOR CORNER DING. IT'S MARKED DOWN $1.*
"Recorded in 1963, Dexter Gordon's OUR MAN IN PARIS features Gordon on tenor sax, Bud Powell on piano, Pierre Michelot on bass and Kenny Clarke on drums. Remastered by Bernie Grundman, OUR MAN IN PARIS will be reissued on vinyl as part of an overall Blue Note 75th anniversary vinyl reissue campaign spearheaded by current Blue Note Records President, Don Was."