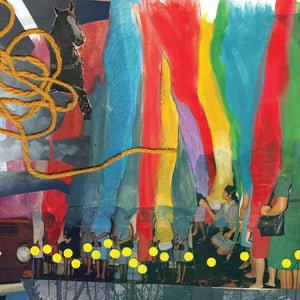 10th ANNIVERSARY EDITION REISSUE. HARDWOOD VINYL LP.
*HEADS UP - SOME COPIES OF THIS TITLE IN OUR LATEST SHIPMENT ARRIVED IN OUR SHOP WITH SOME DINGS TO ONE CORNER OF THE OUTER JACKETS. THOSE COPIES ARE MARKED DOWN $1.*
"At it's debut, Michael Nau noted the presence (and absence) of time's influence on Paranoid Cocoon. He noted "there's no intentional theme behind these songs. Cocoon didn't span a lengthy duration of time, so head-space and moods tended to remain thread-like throughout. I believe there's a familiar mood from start to finish... The lyrics work like visuals of such moods." The 10-year anniversary reissue of Paranoid Cocoon celebrates this mood, which remains peacefully untouched and seamlessly woven into the hearts of long-time listeners and new fans alike. Paranoid Cocoon is an album full of quiet, wooden psychedelia reflecting Cotton Jones' casual pursuit of comfort and freedom. Michael Nau and Whitney McGraw have hearts - huge, questioning hearts - full of music that mixes elements of soul, rock and gospel into a gauzy cocoon of small-town sound. Under the mountains of Cumberland, Maryland, where creeks zigzag in the lonesome dark of the forest and a red moon hangs overhead, these songs were born of leaving, of dreams both good and bad, sung from surroundings the band has known their whole lives. In the album's 2009 debut, NPR lauded Nau and McGraw's ability to "create a mature, oddly woodsy feel, with strikingly evocative and despondent lyrics. Nau's baritone, which recalls that of Lee Hazlewood, sings of forgotten happiness and missed chances, evoking charming sadness throughout the new record." Rolling Stone noted how Nau and McGraw "craft jazzy folk peppered with pianos, strings and organs, and drive them with down-home vocal harmonies. Importantly, they've got lyrics to back up the gentle vibes." Paranoid Cocoon is simple, understated perfection: they sound timeless from singing together forever."