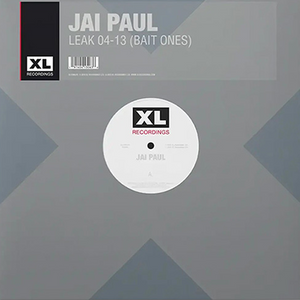 2023 REISSUE. BLACK VINYL LP.
*HEADS UP - OUR COPIES OF THIS TITLE WERE DELAYED AND ARE ARRIVING LATE. ANY ORDERS CONTAINING THIS RELEASE WILL SHIP / BE AVAILABLE FOR PICKUP ON OR AROUND MONDAY, NOVEMBER 20th.*
"November 17th 2023, sees the first ever retail release of the infamous April 2013 leak of unfinished Jai Paul demos that took the world by storm, titled Leak 04-13 (Bait Ones). Coined one of the best albums of the 2010s (Pitchfork), Bait Ones boasts an impressive tracklist with songs that have been sampled by some of today's biggest artists such as Beyoncé and Drake.

After years operating in near-anonymity, Jai Paul made his live debut at Coachella earlier this year, after which he has played a handful of sold out headline concerts. This retail release follows a limited run of 3000 LPs sold worldwide via Jai's webstore to celebrate the tenth anniversary of the leak, all of which sold out immediately."