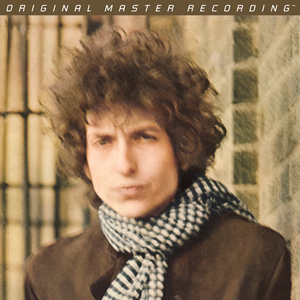 As part of its Bob Dylan catalog restoration series, we are thoroughly humbled to have the privilege of mastering the iconic LP from the master tapes and pressing it on 45RPM LPs at RTI. We feel that the end result is the very finest, most transparent analog edition of Blonde on Blonde ever produced. Forever renowned for what the Bard deemed "that thin, that wild mercury sound," the album's famed aural character lives and breathes on this superb version, with wider and deeper grooves affording playback of previously buried information and lifelike presentation of the studio sessions.
Prized for a unique sound that cultural critic Greil Marcus tagged "the most glamorous record imaginable; listening you [can] see the checkered jester's suit Dylan had worn on stage for the nine previous, furious months," Blonde on Blonde is to music, production, prose, and performance as what hydrogen is to water. The secret to its inimitable aural character partially stems from Dylan's request in Nashville to producer Bob Johnston to remove the baffles from the studio room, allowing the musicians to interact as well as the music to assume a more organic quality that drifts from one microphone to another.
The story of Blonde on Blonde is almost as compelling as the music within. Dylan, frustrated with how initial attempts fared in New York, relocating to Tennessee and pairing with Nashville's top session players as well as members of what would become the Band, feverishly chasing perfectionism while also arriving at an on-the-fly feel that remains a reference point for recorded music. The Bard sweated over lyrics, demanded his band get the exact sounds he heard in his head, and limited most takes to a handful at most. A majority of songs were recorded long after midnight, the post-A.M. vibe reflected in the nocturnal aura, woozy optimism, inversion of intervals, and spiritual soulfulness of the playing."