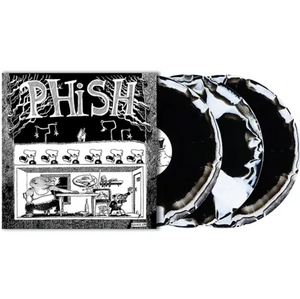 *THIS IS A PREORDER.* Will ship / be available for pickup on or around December 15th, 2023, barring any major manufacturing issues.*
BLACK AND WHITE "FLUFFHEAD" SWIRL VINYL 3xLP.
"Junta (pronounced Joon-tah) is Phish's first official studio album, recorded at Euphoria Sound Studios in Revere Massachusetts in 1987 and 1988 on 16-track 2'' tape and was mixed to 1/4'' stereo reels.  In addition to writing and performing all the music, the band produced the album themselves - gathering around Engineer Gordon Hookailo's console to do group fades since the studio lacked mix automation.  It was a ground-breaking effort in terms of musical ambition and every song on the album is still performed by the band live.  Junta was originally self-released on cassette tape in May 1989 with packaging created by the band.  The album was re-mastered and re-released as a double CD (and cassette) in October 1992 on Elektra with art by Jim Pollock.  The release was certified Gold but was never heard on vinyl until a special Record Store Day edition in 2012.  The vinyl release was created from the original stereo master reels with lacquers cut by Chris Bellman at Bernie Grundman Mastering."